PSTEC™ audio products (free basic intro audio)
Tim Phizackerley, inventor and creator of PSTEC™ has a very similar philanthropic philosophy to Gary Craig, founder of EFT (Emotional Freedom Techniques). I have a very high regard for both gentleman because their techniques or modalities:
Produce powerful results
Results are fast: often within minutes or a few rounds
Suitable for self-help or therapy
Simple and easy to use
Accessible to people worldwide
Tutorials are provided
Empowering, inspiring and enlightening
Help yourself for FREE - instant access ...
This is precisely why I have become SOOO excited about PSTEC™. Having successfully used PSTEC™ on myself and many, many clients I have no hesitation in recommending this incredible modality. OK, without further adieu please HELP YOURSELF by following the links below to a life of emotional freedom, peace and success.
Begin clearing negative emotions, experiences or memories NOW ... Quickly, Easily and Effectively!!

This basic introductory 11 minute PSTEC™ audio is **FREE** and can be played by anyone including you!

These introductory audios form the foundation of everything you will need to clear negative emotions, experiences or memories. Simply click here to download this **FREE** introductory package.


DOWNLOAD OTHER EXCITING PSTEC™ AUDIO PACKAGES:
(MP3's and CD's available)
**FREE** Basic PSTEC 11 minute Audio Package:
The entire free Basic PSTEC Audio Package (6 audios) includes: Instructions, Click Track 1 and Click Track 2, Frequently Asked Questions About PSTEC, Special Panic Attack instructions, and The Next Step: How to Be Happy.
** This product forms the basis of all future audio programs. Start here if you are new to PSTEC.
CANCER - PSTEC FREE Special Package:
If you have been diagnosed with cancer or know of someone who has, this will be very helpful. Most of the PSTEC audios relate to emotional problems and improving beliefs, but this extra free package is different. This is a unique addition to the PSTEC family of audios because it relates to a medical problem: cancer.
This package is a combination of tutorial and special tracks. The package is designed for adults only. This package of audios relates to all forms of cancer but some tracks are a little more specific. On this package Tim explains cancer related issues in the context of PSTEC and how PSTEC can be helpful.
Cancer: FREE - PSTEC Special Audio Package (downloads) includes five audio files; one tutorial, four special hypnotic audios.
PSTEC for the Common Cold:
Can your brain keep you well? No medication! No food suppliments! Buy it once, use it forever! Contains a full tutorial and preventative hypnosis track designed to reduce the frequency and severity of colds and flu.
Stop Smoking - Self help Package:
Includes 7 audios of step-by-step instructions to help walk you through the thoughts and processes to quit smoking. There is also a "quit smoking" click track and a positive click track specifically for this program and a special stop smoking hypnosis audio. There is a pdf of written instructions as well.
Achieve Your Natural Weight:
Resolve your unconscious reasons for emotional over eating and comfort eating. Package includes: Achieve Your Natural Weight downloadable Ebook (102 pages); 4x online/downloadable videos; 3x online/downloadable audios and 6x pdf/downloadable forms to help stay on track.
PSTEC Weight Loss Package:
This affordable package has lots of special tracks designed to make your weight loss successful. Ideally suited for self help, and include audios, click tracks and instructions.
PSTEC for Bulimia:
As a therapist, Tim Phizackerley specialised in treating Bulimia Nervosa for a number of years. This comprehensive package incorporates other strategies as well as PSTEC, and is designed to systematically dismantle the framework that exists below conscious awareness which constitutes Bulimia Nervosa. Ideally suited for self help, and include audios, click tracks and instructions.
PSTEC Level 1 Audio Package:
The free PSTEC stuff will amaze you but this PSTEC Level 1 package goes way beyond that. Level 1 is an optional & massive 2.5 hour PSTEC audio package which takes you far far beyond the free audio. You'll get 4 new and powerful PSTEC click tracks plus mountains of information, methods and full instructions. This package can be used for therapy or for self help.
The PSTEC Level 1 Audio Package includes seven audio files; An Introduction to PSTEC, The PSTEC Therapy Course, Success and PSTEC Positive (instructions); PSTEC Positive Click Track 1, the tapping version; and PSTEC Positive Click Track 2, the non tapping version; the two Enhanced Effectiveness (EEF) Click Tracks for particularly "sticky" issues.
** This package is exceptional value as it includes both PSTEC Positive Audios and PSTEC EEF's (Enhanced Effectiveness).
PSTEC How to Achieve Almost Anything - The Easy Way:
This one is destined to become a classic!
On this audio you'll discover how to "re-pattern your life" for whatever successes you want the easy way. How you can use PSTEC™ and other simple techniques to turn past failures into future successes. In other words, how to achieve almost anything you want to achieve, and discover how to do it the easy way. (approx 3 hour instruction included)
* Banish limitations
* Lose weight
* Make more money
* Experience more good fortune
* Set goals and achieve them
* End procrastination
* Fast track to success
* And much more…
HURRY, I want to download PSTEC's How to Achieve Almost Anything - The Easy Way right away, I cannot wait any longer!!
Success with PSTEC & PSTEC Positive Audio Package:
This audio is in two parts…
Part 1. Success with PSTEC™ - discover how to be most successful with PSTEC™.
Part 2. The PSTEC™ Positive Techniques - this PSTEC™ Positive is very different from the free basic emotion neutralizer audios.
With PSTEC™ Positive you specify changes, and then install them using the PSTEC™ Positive system. The instructions in part two of this audio will give you the knowledge that you need to use PSTEC™ Positive. The two essential PSTEC™ Positive click track audios you require are included.
The PSTEC Positive Audio Package includes three audio files; Success and PSTEC Positive (instructions); PSTEC Positive Click Track 1, the tapping version; and PSTEC Positive Click Track 2, the non tapping version. (Approx 1 hour and 5 minutes of audio)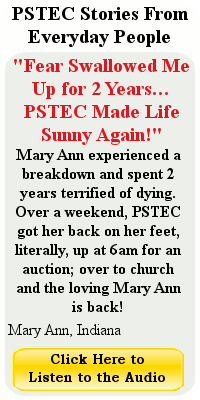 PSTEC Accelerator Package:
How To Create More Success, Blast Through More Problems, And Enjoy Even More Profound Results.
Are you using PSTEC on a regular basis? Then let me tell you about the PSTEC Accelerators. PSTEC is extremely powerful. You've probably found that out for yourself already. The various PSTEC tracks amaze most people who use them but even so, Tim has figured out ways to increase the power even more. That's the purpose of the PSTEC Accelerator tracks: To "ramp up" the power of every other PSTEC track.
I trust these PSTEC™ audios will assist you to a happier, healthier and more successful future. Emotional health and well being; this is your right - claim it!
I endorse PSTEC™ because this process achieves fabulous results - both personally and with clients in my practise.
Enjoy!! And, please feel free to refer my website to friends and family - the more the merrier, thank you.
Namaste,
Bridget